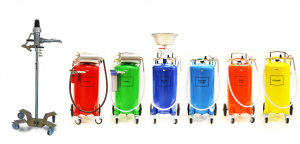 Since 1993 and already in operation at over 800 dismantlers world wide, the SEDA Mobile represents the most efficient, cost effective and reliable solution for draining all fluids from "End of Life" vehicles.
The System consists of a SEDA TankDrillingMachine, an air powered control unit and six 80 liters kulis with accessories for the efficient removal of the following waste fluids:
Petrol
Diesel
Waste oil
Windscreenwasher fluid
Brake fluid
Coolant fluid
Note: All parts of this station are available separately!
The SEDA Mobil system is prepared for a daily drainage up to 12 vehicles. It's modular design which incorporates multi colored vacuum kulis makes it the ideal solution for the smaller yard.
The extensive SEDA accessoires (all included):
– Brake hose pliers (to drain at the brake fluid hose)
– Brake pipe pliers (to drain at the brake fluid pipe)
– Fuel suction hose (to drain at the tank filter inlet)
– Air operated control unit (for an easy handling)
– Pressure plug set (increase the sucking power)
– Rubber boots for brake nipples (to drain at the nipples)
– Puncturing tool with housing (to drain coolant fluid)